Organized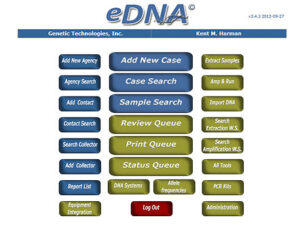 eDNA provides the tools to put all case related records at your fingertips.  Inquiry to answer is clocked in seconds—no need to hunt for case files.  eDNA is a force multiplier with regards to laboratory technical and administrative staff.   Plus full integration with Brutus, a world glass kinship calculator. eDNA is designed to facilitate compliance with the AABB and NYSDOH Accreditation standards.  The entire turnkey process from case file management, sample tracking, to documenting report reviews all have a focus on standards compliance. Easily track paternal / maternal mutations system by system, track exclusion rates, kinship scenarios tested, sample types, turnaround times, and overall case volume making year end planning and reporting a snap. Various kinship calculations are easily calculated with a graphical input.  All kinship scenarios propagate to a case specific report of results that includes all data necessary for AABB compliance. Give the Brutus pedigree calculator a try.  This free online tool will allow you to calculate any imaginable Kinship scenario. Features include:
A simple graphical pedigree builder tool
The ability to easily define the hypothesis and null hypothesis with a click of a mouse
Missing person and incest calculations are easily calculated for criminal investigations
Complex pedigrees "calculate in seconds" compared to other tools that can take hours
Results are presented in the likelihood format along with H1, H2 and the final LR being presented in the symbolic formula format as well
Null (Silent) Alleles can be optionally considered
Pedigree wide and gender specific mutations can be optionally considered
Population Substructure correction is offered as a calculation option
Access the
Brutus Pedigree Builder / Calculation
tool. Please note:
The Brutus Module will only work using Chrome
. For quick start instructions or live demo contact the
eDNA Stewart.
Alternatively view the 
Brutus Tutorial Video
.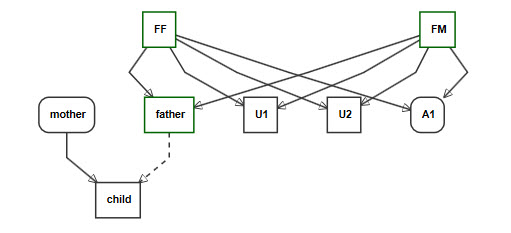 The eDNA LIMS / Brutus integration provides additional robust functionality to include:
The ability to select race specific frequencies that automatically populate the kinship calculations
The ability to simultaneously calculate entire panels such as Identifiler, GlobalFiler, PowerPlex 16, Fusion or any amplification chemistry
Detailed calculation worksheets to include symbolic formulae
Robust report generation
Review queues
Bi-directional equipment and genotyping software automation (no manual data entry)
Plus, all the eDNA LIMS Case Management features
There are other Kinship Calculation tools available to the HID Industry.  However, no other tool but Brutus provides a visual and infinitely versatile pedigree builder.  Other applications can perform complex kinship calculations but errors are still prevalent because of "junk in, junk out". Brutus addresses this problem by allowing the user to explicitly view the kinship scenario that has been calculated. The Visualization Tab in Brutus allows the User to build while simultaneously verifying the pedigree as it is being constructed.  The pedigree builder is intuitive and fun! In the "avuncular" example below we can see that the Paternal lineage is questioned (by the dotted line). The green nodes represent "untested" individuals, rounded edges "female", and the node in blue has the "focus" (currently selected for modifications using the Information panel).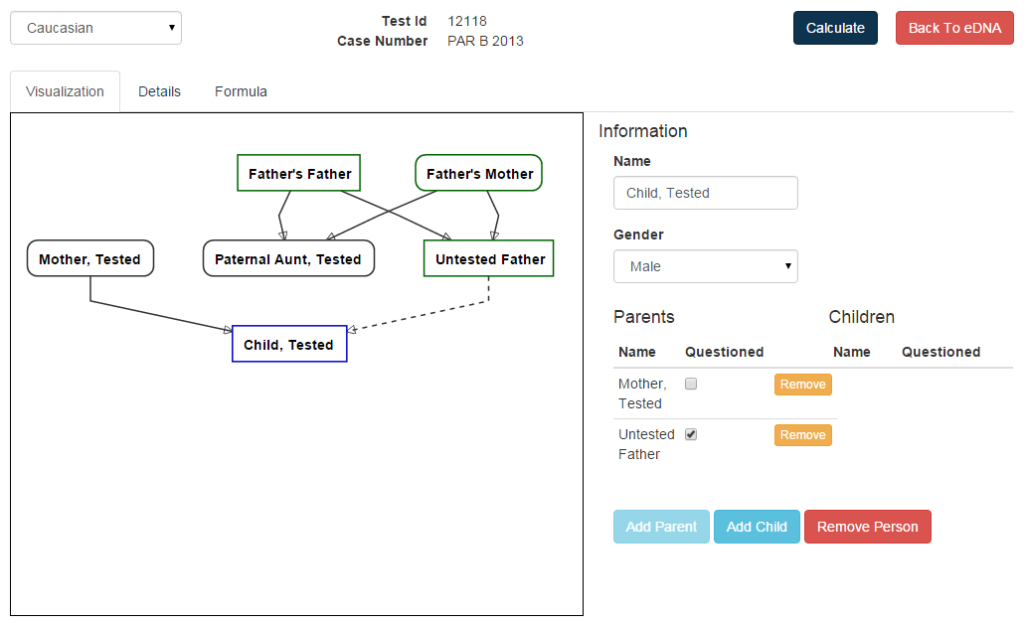 By selecting "Calculate", the User is redirected to the Formula tab where the results can be viewed: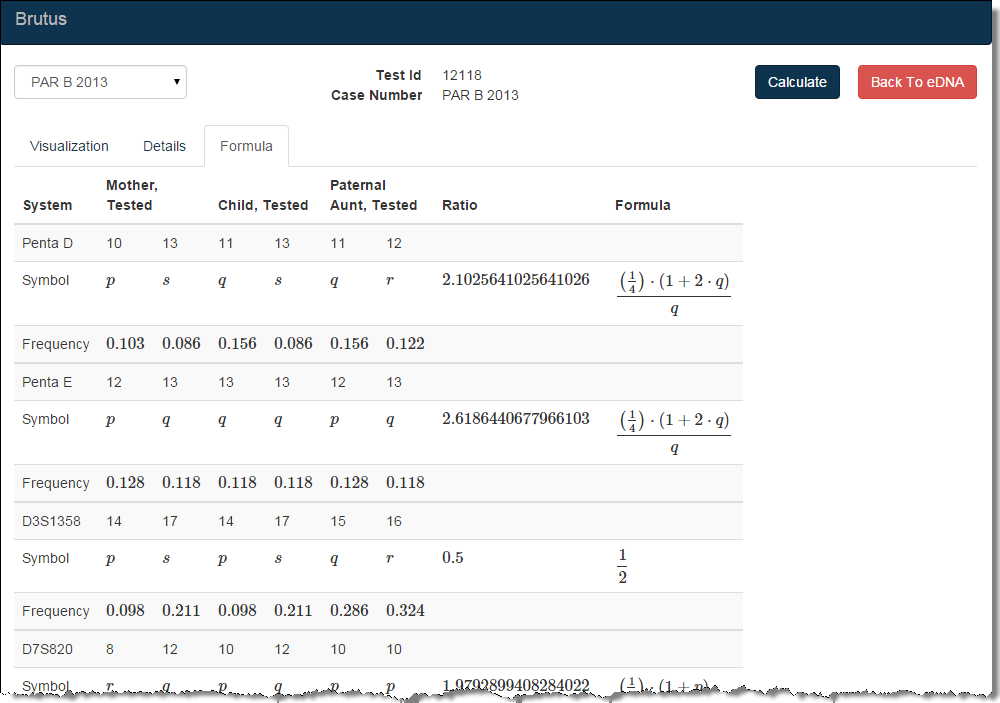 Back in eDNA, the Pedigree Calculations have been memorialized and are now ready to be submitted to the Review Queue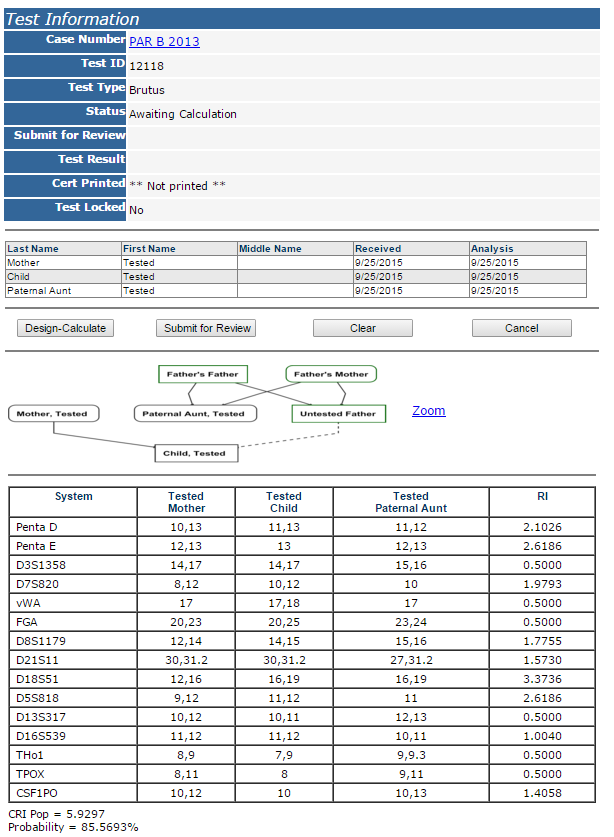 After the Review process, the Final Report is generated and ready for client side distribution.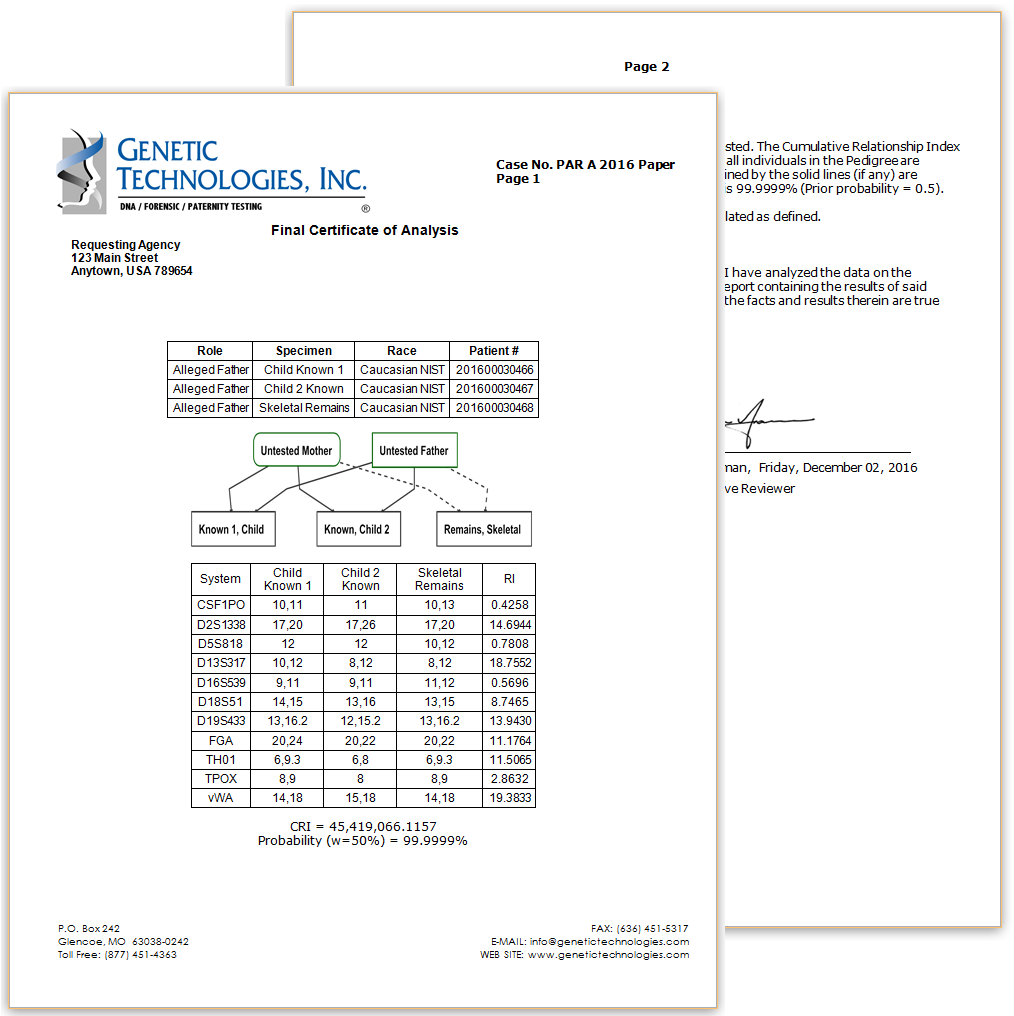 eDNA's Origins
eDNA made its debut in the year 2000. The product was born of necessity and the creation of Genetic Technologies, Inc. The early LIMS was designed to facilitate customer management, sample and case tracking, kinship calculations, review queues, and report generation. From the onset eDNA was used as a tool to provide a redundant level of sample swap protection—and peace of mind for any size lab organization.